While Google My Business replaces Google Places, one of the major points that has not changed is the requirement that Service Area Businesses (SAB) hide their address. Your business is classed as a SAB if:
Your business is mobile
You operate from home
Your office is not staffed during your stated opening hours
The idea is Google do not want to show a location on Google Maps if you are not able to accept customers during your opening hours. They don't want people travelling across town for a wasted journey.
Unfortunately the handy "Do not show my business address on my Maps" check box in Google Places has disappeared. Google now decides whether to show your address or not depending on the information you provide.
How To Hide Your Address On Your Google Local Page and Maps
A transcript and screenshots are below for those who prefer to read.
1. Navigate to google.co.uk/business and choose your page
2. Click the red Edit button

3. Scroll to the address section and choose edit
4. Scroll down and tick "I deliver goods and services to my customers at their location"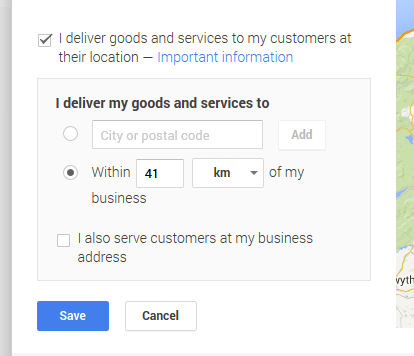 5. Click the blue Save button
You'll also notice the "I also serve customers at my business address" check box. This option will display your full address on Google Maps and your Google My Business Local Business Page. It should only be used if you have a staffed office during your stated opening hours and not for home based businesses.
Over to you…
Google can and often do remove businesses from Maps and delete Local Business Pages for breaching this guideline.  Do you know a home based or service business that would find this info useful?  Please help them out and share this article.
I'd love to hear your service or home business experiences with Google My Business – leave a comment below!
Google My Business: How To Hide Your Address [Video]
by
Jan Kearney
Google+ Comments