Chaos reigned supreme in the Facebook camp this week.  Did Facebook change the cover image rules for pages?  Was it a mistake?
Facebook changes to cover images
Facebook quietly updated their page guidelines with no announcement, basically taking away many restrictions on what you can put on your cover image.  Mari Smith reported the changes over on her page on 20th March.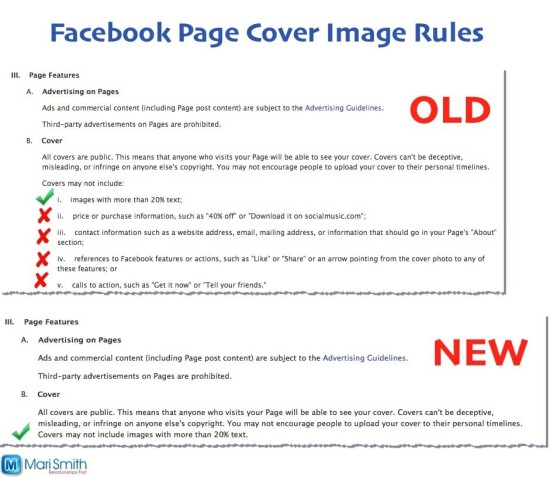 image credit Mari Smith
On the face of it, this is brilliant news!
However, not everyone could see the changes Facebook made to the rules.  Some people were still served with the old guidelines.  Within hours, an Australian and New Zealand Facebook Small Business Manager stated that the guideline change was temporary.  Confusion much?!
It was a bit like the Hokey Cokey for a couple of days – in, out, in, out and shake it all about…
Inside Facebook later confirmed the rule change went into effect on 6th March, two weeks before the news broke.
Fun and games over, what do the changes mean for you?
When it comes to Page cover images, the only restriction is now the 20% text rule.  You can:
Ask people to like your page
Include your special offers
Add your contact details
Perhaps even better, when someone likes your Page an image is added to their newsfeed. 

The changes to the guidelines are a great opportunity for small business owners on Facebook.  I've already changed over a few cover images on Pages I help maintain using Timeline Slicer Pro to quickly create the cover.
Don't forget when you change your cover image to add a description with a call to action and a link if needed.   Local businesses should tag the image with their location too.  Take full advantage of the opportunity now available to you.
All together now, "Knees bent, arms stretched, Rah! Rah! Rah!"
Over to you…
Are you taking advantage of the Facebook changes yet?  Will you be adding your offers and promotions to your Page cover image?
Facebook Changes The Rules (Again) Are You Taking Advantage?
by
Jan Kearney