What Is Google Authorship?
There's been a lot of noise about Google Authorship and even Author Rank over the last few weeks.  Authorship is a way for Google to know who you are and what content you have published around the web.  In its simplest form, you publish content on your website or blog.
Google Authorship has been around for a while now, since the end of 2011.  Author Rank, however, doesn't actually exist…
Yet. 
It is a lot of speculation about what Google will do with the information we provide based on various patents they have been granted.  That's not saying Author Rank won't happen, just we don't know the details yet.
Stand Out In Search
There's a plethora of reasons why you would want to add Google Authorship to your website.  There's 10 reasons here on this CopyBlogger post.
The one that makes people say, "How did you do that?" is your photo in the search results.  Yes, it works for local searches too!

How To Get Your Photo In The Search Results
There are several ways to add Google Authorship mark-up to your website.  I'll list just one here.
You will need:
A Google+ Profile
A clear headshot profile photograph
Access to your website or blog code (or a plugin to do it for you!)
This is the part where I encourage you to do as I say, not do as I do!  You do need a clear photograph as your Google+ Profile picture.  A logo just won't cut it!  Your picture needs to be your face.
If you have not already set up your Google+ Profile, do it now.  Your profile picture needs to be a minimum of 250px x 250px.
On your Google+ Profile, click the About tab and scroll down to the Links section.  Click the edit link at the bottom of the section.

On the Links pop-up section, scroll to Contributor to and click Add custom link
Complete the sections.  Label is your website or blog name.  URL is the address, including http://  Ensure Current Contributor is selected on the dropdown box (should be the default setting)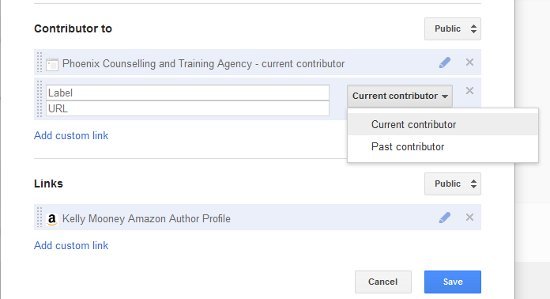 Then click save.
Almost there…
Connect your website to your Google+ Profile
For WordPress websites, I recommend Yoast's WordPress SEO Plugin because it covers a whole range of settings including connecting your site with your Google+ Profile.  The video below explains the Titles and Metas section of Yoast's Plugin.
If you don't want to watch the full video (it's 15 minutes long), the Google+ part starts at 6-mins, 56-seconds and ends at 8-mins 51-seconds and I've put instructions below.
How to add Google Authorship using Yoast's WordPress SEO
In your WordPress dashboard menu, click on Users > Your Profile
Scroll down to Contact Info, Google+ and add your Google+ Profile URL
Scroll down and click save
In the WordPress dashboard menu click SEO > Titles and Metas
Select the Home tab at the top of the page
In the Author Metadata section use the dropdown box to select the Author Profile you wish to attribute to the blog (your main profile)
Click Save Settings
If you don't have Yoast's plugin, or WordPress for that matter, you need to add the following code to the <head> section of your website.
<link rel="author" href="[profile url]">
Your profile URL will look like this
https://plus.google.com/112274386260118523996/ – replace the number with your own G+ profile number.
Then pop over to Google's Rich Snippets Testing Tool and check it recognises your code.
That's it, you're all done!
It may take a little while for your photo to show in the search results and it won't necessarily appear for every search.  It would seem that Google prefer colour photos too – see this post on Blumenthal's blog.
Do you need a local business website with Google Authorship?
see my local business website packages!
Over to you…
Have you marked up your website or blog with Google Authorship yet?  Have you noticed a difference in click-through rates from search?
Google Authorship - How To Get Your Photo In The Search Results
by
Jan Kearney