I've been watching the story of Paris Brown, Britain's first Youth Police Commissioner unfold over the last couple of days. I wouldn't have noticed except my ears perked at the mention of her Twitter account that brought on the backlash.
For those of you not familiar with the story, Kent's Police Commissioner thought that it would be useful to have a youth representative. Paris, who is 17, was recruited from the 100 or so applicants and paid £15,000 per year.
I'm not too sure why they thought this was a good idea.
Apparently, the Kent Police need the voice of our youth. I'm sure they could have got it with far less palaver if they hired someone to spend an hour a day on Twitter and Tumblr.
Paris lasted a week in the role and resigned earlier today as our press and politicians suddenly thought they were still living in the 1980's and hounded the poor girl out, for being a teenager no less.
The problem?
Her offensive tweets spanning back to when she was 14.
Who else is shocked that a 14 year old tweets about being drunk, drugs and sex? It's only the same as what they talk about constantly on their phones or hanging out.
Despite a public apology, it would appear that Paris still had to go.  If we applied the same principle to everyone in public office, no-one would have a job!
We all say things we regret
I'm not condoning what Paris wrote, some tweets were quite offensive taken on their own and out of context. It's very difficult to put 140 characters or less in context, months and years after they were unleashed on the world anyway.
Kent Police admitted that they didn't vet her social media accounts – as if that was a huge oversight…
I'm just glad the joys of social media didn't exist when I was going through my teens. I'm sure I would have shocked the world with my status updates if anyone cared to dig them out. I bet there's still some animal rights graffiti around Liverpool somewhere for anyone that wants to go look.
This whole mess and public humiliation of a young woman highlights a few things for me.
The clowns currently running the country need to get a grip. Instead of calling for the resignation of a 17 year old who was totally unprepared for the backlash of public office, they need to step back and look at what's really happening.
Social media is changing the way we live. It really is a social revolution that we are simply not prepared for. Our kids have grown up online with very little guidance about online ethics or netiquette. We don't teach this stuff in school, and we're learning ourselves as we go along.
It's the wild west…
What can we take away from this drama?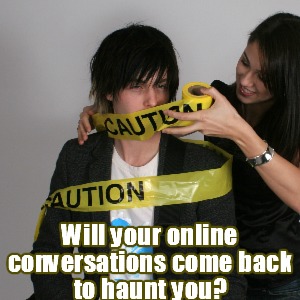 I'm not saying don't have opinions or speak your mind. Please do – the world would be a very boring place if we were all the same.
Everything we do online has the potential to go very public. A tweet, a Facebook status, even our blog posts are all out there for the world to see. Not just for a few seconds as it flies through a news feed, but years down the line too.
Comments that back in the real world said between friends face-to-face would be forgotten – a laugh and joke at the time, suddenly have the potential to come back to haunt us because we expressed them online. 
Online conversations, whether on Twitter or other networks have become the norm.  Conversations that I wouldn't dream of having online are quite normal for my daughter (who is 20).
As business owners trying to use this wonderful tool to promote ourselves, we do leave the door wide open for people to pry. Perhaps not on the scale where the national press get involved like a pack of rabid dogs, but the invitation for some fool to dig up perceived dirt is there.
Paris learnt the hard way, I feel for her.
The next lesson?
If you apply for a public office, make sure you delete your Twitter account because some small minded people will go looking for something that can be deemed offensive…
Over to you…
Should we be hounding people over comments made on social networks in the past? Do you self-censor your updates? I'd love to hear your thoughts in the comments!
Will Your Online Past Catch Up With You?
by
Jan Kearney