It's officially British Summer Time and I am already missing my hour.  So much to do and so little time.  This week's catch up is about productivity and getting stuff done.  Yes, it could be argued I read more about getting stuff done than doing it…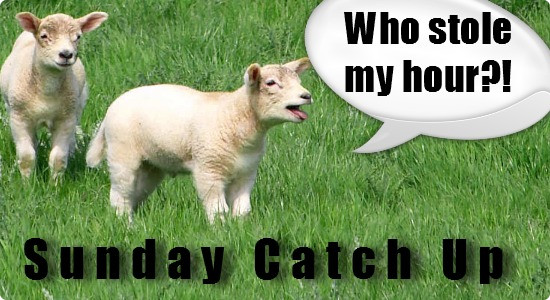 Multi-tasking
Mind The Science Gap has a great post about multi-tasking.  It caught my eye with the opening line, "While you are reading this post how many other programs do you have open? How about tabs."
Err, well right now typing this, 3 windows of Firefox with at least 15 tabs on each, Opera with 24 tabs, Gimp, Logo Creator, Thunderbird, Notepad and Word – actually quite a quiet session for me… Chrome and Excel are missing.  All is not lost.  As someone who spends a LOT of time surfing and an ex-gamer, I apparently can process pages in 2 seconds before moving on…  We can train ourselves to multi-task.  Meanwhile, I'm busy training myself NOT to!
I do have a reason for all those windows and tabs – I've been decluttering local business listings this week.  I'll be honest though, my laptop always has that much open.  I promise myself I'll comment on that blog later, or bookmark that for reference etc. etc.  Then they sit there till I restart!
Project Management
Michele Shaeffer had a great video over on her blog this week, real old school – a project planning board. 
It reminded me of several jobs I've had, admittedly much more colourful!  I also remember the screams and gnashing of teeth from the old-timers as such tasks went digital over the years.  I am old school though, much prefer a pens and paper to-do list and a proper diary.  Will I put up a board in my back room?  We shall see!
Time Management
Fellow Biztopia challenge participant, Leanne had a guest post from Holly Worton on her Juggle It All blog that caused me to stop and think a bit.  Time management issues often have underlying issues and Holly outlines 3 questions to get to the bottom of it. 
I have major issues with the declutter the desk part – always have!  So, I've got a bag and thrown it all out… 
Do I feel better? 
Naked is how I feel right now.  Great post and a useful questions to ask yourself.
Time Saving Apps
On Life Hack this week was a post explaining how the Active Words app can save you time.  From opening screens and pre-populating text, to using it with Evernote, it sounds really nifty. 
However, I need a restart to install the thing and right now can't bear to close all those windows and tabs…  I think throwing some clutter out was enough for one week!  I will install when I restart later (laptop is screaming for a restart) and let you know how I get on with it.
No!
Just can't say no?  The Buffer App blog has a scientific guide to saying no.  Outlining a recent study from the Journal of Consumer Research, it is actually quite interesting.  They discovered the right words make it easier to say no. 
Which won, I can't or I don't?  Have a read and find out!
Over to you…
Do you have any productivity or time saving tools and tips to add?
Sunday Catch Up - Who Stole My Hour Edition
by
Jan Kearney