The "Tackling The Social Challenge" Report from EPI Server highlights a very disturbing social media problem…
Only 45% of marketers monitor their own social communities, forums and blogs.
I find that quite shocking.
The whole point of social media is to interact. It allows you to add your personality and style to your business online. How can a you interact and inject your personality when you don't monitor your own communities?
Social Media Overload
There are so many social platforms out there and I totally understand the thought that business owners feel they need to be everywhere – but dashing out to join the latest social craze just for the hell of it is not good for your business.
An abandoned profile, or worse – social profiles that are updated for you but do not reply to comments, questions and feedback just shows that you don't care. When someone visits your page, feed, blog or forum and sees masses of unanswered comments, why on earth would they trust you enough to buy from you?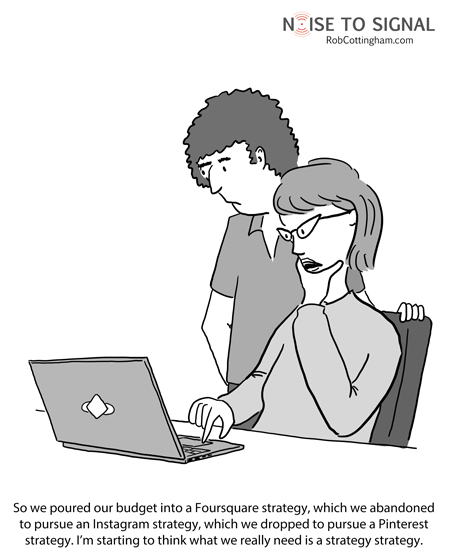 Noise to Signal Cartoon
A small business is often working on a very tight budget and time limits. Rather than overwhelm and abandoned accounts, choose one or two social platforms that your ideal audience uses regularly.
Monitor these accounts daily, update frequently and reply as soon as you see a comment or question.
There are tools available, free and paid that allow you to monitor and update your social accounts. I use Marketme Suite because my main platforms are Facebook and Twitter and it does both really well. You can also monitor LinkedIn there too.
UK Social Media Stats
EPI Server surveyed 250 UK marketing decision makers in February 2012. Other statistics from the report include:
40% do not have an individual dedicated to social media and do not expect to appoint one
Only 22% of businesses had a dedicated community or social media manager
Managing their social presence are:
28% by a marketing executive
16% by the IT manager
14% by a PR executive
3% by external agencies
Less than quarter (24%) of companies are able to update the various channels using one platform, and even less (6%) have a centralised dashboard to display the social media activity and results.
Not surprisingly the most popular social media channels in the UK are Facebook (65%) and Twitter (60%)
Only one business in ten participating in social media said they are able to effectively measure the benefits of social media.  Yet marketers dedicate an hour a day to social media activities on average
Download the full report from EPI Server
Decide why you're using social media – what are your goals? Increasing awareness, engagement, providing information, customer service?
Choose an appropriate social platform
Decide what metrics to measure in line with your goals
Monitor your results
Review, tweak and improve
How do you use social media in your business?  Is social media working for you?  Share your thoughts below.

55% UK Businesses Fail In Social Media... Are You One Of Them?
by
Jan Kearney