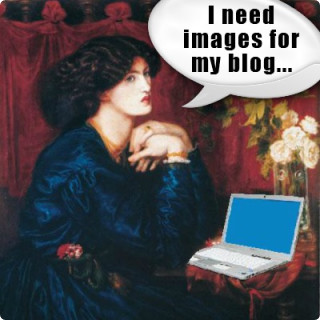 Where to find free images that you can use on your blog or social channels without fear of a copyright slap is a question I am often asked.  Really, you shouldn't just "borrow" any image or photo – even if you do credit the artist.
I'm the first to admit, I can take or leave graphics.  I'd be quite happy back in the early 90's when images on a website were rare.  When you did see one, it was a poor quality square thing that took 5 minutes to load.
These days, images are expected – we need something to zoom through our Facebook feed and to pin on Pinterest if nothing else!
10 Places to Find Free Images
Use your own photos
No, that isn't a cop out!  I'm not talking professional sets.  This is your blog and your social streams, it's perfectly ok to be human.  People do business with people.
Using your own photos helps to forge a relationship with your readers.  They inspire trust and people feel they can get to know you.  That is so powerful online!
Use photos from your office, you and your staff, your products in use or landmarks around your town (great for local!) 
Public Domain Images
Public domain images are images that have either expired copyright or have been released from copyright.  These images can be used and adapted freely with no attribution for personal or commercial use.
Where can you find public domain images?
1 Pixabay.com – lovely site with a really simple search facility
2Picdrome.com – I find this search very clunky but some nice images found
3 Publicdomainfiles.com – not as clunky search, but returns some odd images sometimes that don't seem related
4 Wiki Commons – not all images on this site are public domain, some are also Creative Commons licences.  Look for images tagged CC-PD
5 Google Life – a whole range of historic photos hosted by Google in conjunction with LIFE photo archive
Creative Commons Licence Images
Creative Commons Licenced images are not public domain, the creator has chosen to waive some rights but maintains copyright.  There are actually several licence variations, be sure to choose images that you can use and adapt under the licence! 
Many creative commons images do not allow commercial use, and some allow commercial use and no adaptions so you must use them as is. All creative commons images require some attribution to the source.
Where can you find Creative Commons images?
6 Photopin.com – Sources images from Flickr and is a lovely easy search site. Select the commercial use option for business pages
7 CC Search – A portal for Creative Commons images, media and music.  CC Search is a portal for various sites and not actually a search engine in itself.
Wiki Commons – as above, more Creative Commons images than you can shake a stick at
Stock Images
Royalty free stock images can be free or purchased.  Always check the licence for the terms you can use the images.
Where can you find stock images?
8 Every Stock Photo – An image search engine that sources from several stock photo sites and Flickr, Wiki Commons, Wikipedia, NASA.  Check the licences before use.
9 Free Digital Photos – Small images are free to use, larger images are available to purchase
10 123RF – Reasonably priced HD stock images and also has a selection of free images
Over to you…
There are hundreds if not thousands of royalty free stock image sites out on the web.  Where do you find your free images, what are your favourite sites?
Original image credit Mike Licht via Flickr
Where To Find Free Images For Your Blog?
by
Jan Kearney