Does Content Matter?
Take me out for a coffee and get me chatting about "web design" and no doubt you will hear me groan as you ask for swish sliders and more rotating or swirly things in sidebars than I care to count.
I'll often say I am not a web designer – I'm not. You'll hear me say I don't have a creative bone in my body and I definately don't do graphics. I use WordPress and make it easier for people to find you online.
Yes, I know design is far more than a few pretty graphics – hear me out…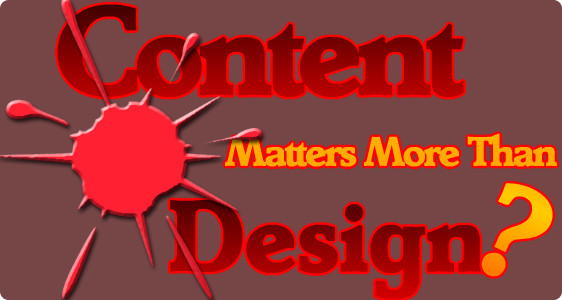 When I ask about website content and what people want on their pages, I don't need a crystal ball.  Most small business owners say:
A big header with a logo
A slider with nice photos of usually unrelated images that apparently inspire people, or their key products
A welcome to our website with some blurb about how long they've been in business
And we'll have a chat as we dig down into what the website is actually for and what the aims are.  It's great when we can get into a discussion about the whys or why nots of certain features and if we'll test them.
Sometimes, it doesn't matter what I say, a business owner just wants a pretty website with a huge logo, slider and "welcome to our website" type content.
It's at that point, I often wonder why I don't charge close to a grand for a WordPress website built on a template you can pick up for a few quid and be done with it. (I don't, taking on work like that frustrates me and I don't sleep well at night.)
Web Content Does Matter
Whether it's your web copy, your images or even video it all has to serve a purpose.  There needs to be an aim.  Having a website just to look pretty is pointless.
I'm not saying that because I'm awkward or a bad tempered bugger (I am both at times!)  My graphical ineptness (is that a word?) has nothing to do with it either.  If you need graphics outside my dubious abilities then I'll hire a designer.
For decades, even before the worldwide web, it has been proven time and time again that it is content not style or design that encourages people into action. 
That's not to say design is not important.  Your message can be amplified by good design.
While I was catching up with some reading, I spotted this article over at The Internet Psychologist.  It's well worth a read.
The importance of content has been revealed in recent research which looked at the impact of anti-smoking adverts in the USA. The study found that the most effective adverts were the ones that concentrated on content, delivering a convincing argument. The adverts that were brilliantly put together with flashy images, great sound and so on had much less of an effect. The study was clever in that the effect measured was a biological one – not some survey. They looked at urine tests and brain scans. What they found was the adverts that concentrated on good content stimulated the decision-making part of the brain that led to changed behaviour as shown in reduced levels of nicotine markets in the urine. In other words, content beat style in its behavioural impact.
What stands out for me is this study is not one that relies on a market survey or tracking CTR and conversions on the web, which is typical when judging the effectiveness of advertisements and web content for that matter.  But, actual changes within the brain that takes place leading to changes in behaviour.
Food for thought!  What do you think?
Over to you…
What are your thoughts?  Does content matter more than design?
Does Content Matter More Than Design?
by
Jan Kearney