Everyone knows that images can bring life to your blog posts and landing pages.  The problem is many people don't optimise or compress their images, which slows down your loading time. 
Cloudinary have a great solution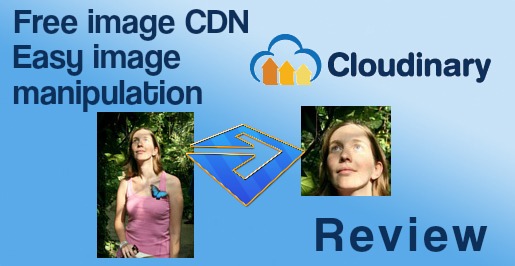 Cloudinary recently released their free WordPress plugin that allows you to take advantage of their image optimisation, manipulation and content delivery network.  The plugin and basic service is free to use with a premium upgrade.
What does Cloudinary do?
The Cloudinary plugin gives you the ability to upload your images to their worldwide CDN (content delivery network).  A CDN is a network of servers that stores your content and delivers it to viewers based on location. 
Simply put, if you host your website in the US and users access it from the UK, it will take longer for the information to appear on the screen in the UK than it does in the US.   A CDN detects where the user is based and delivers the same content from a server nearest to them, speeding up delivery.
A CDN is a very useful way of speeding up your site, especially if you have lots of visitors.  It evens out the load on your host.
Unlike many CDN's, Cloudinary only stores your images in the cloud, not all your website content.
In addition to potentially speeding up the delivery using the CDN, Cloudinary optimises your images by stripping out all the unneccesary data.  So super -fast loading images are now within reach.
Image manipulation
Just to get even more amazing, the Cloudinary plugin allows you to edit images and add effects straight from your blog.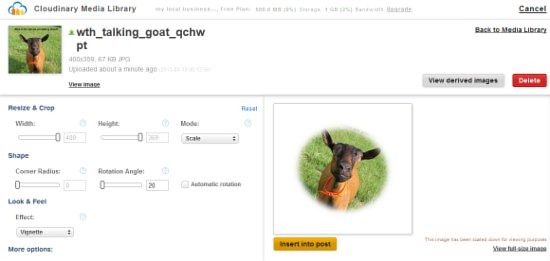 The WordPress plugin does require an Cloudinary account.  The free account is more than adequate for most standard WordPress blogs and websites with 500MB storage, 50,000 images and 1GB monthly bandwidth. Premium upgrades are available as needed, starting from $39 per month.
Is there a downside to all this awesomeness?
Of course there is. 
WordPress featured image isn't supported, which is disappointing.  You can still use the standard WordPress upload for your featured image.  The "upload to Cloudinary" link for older images in the media files section so far isn't working for me – I've not looked closely at this yet, it could just be my blog.
Overall, Cloudinary has made it into my nifty online toolbox.
Get started with Cloudinary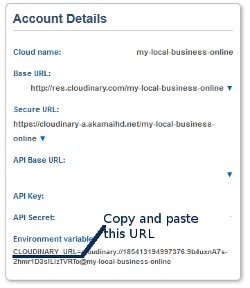 Sign up for a Cloudinary free account
Install the Cloudinary plugin
Copy the Cloudinary URL from your Cloudinary dashboard
Paste the URL in the Cloudinary settings
Start hosting your images in the Cloudinary cloud
Over to you…
Do you use a CDN on your blog? Will you try the Cloudinary plugin? 
Cloudinary Plugin - Free CDN and Image Manipulation
by
Jan Kearney