We Brits are continuing our love affair with video.  With 323 million hours watching online videos in February 2013, I'm surprised our eyes aren't square!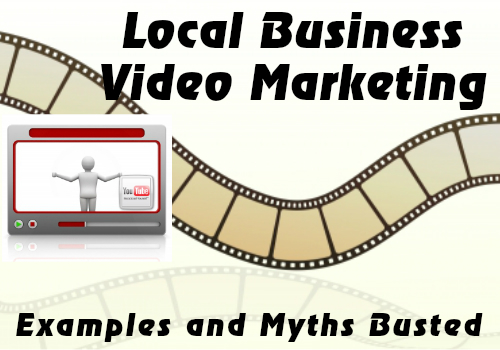 When I discuss creating videos and video marketing with local businesses, I often get the same replies…
Video marketing is too expensive
My business doesn't lend itself well to video
I don't have the equipment or technical know-how
I don't look good on camera (I can relate to that!)
Oh, we'll get a video made when… (insert event that never comes off here)
Busting Some Local Business Video Marketing Myths
Let's address the two main issues and look at how easily you can use video in your business.
1. Creating a video is expensive
The cost of video creation is perhaps the number one reason many businesses do not use video in their local online marketing mix.  I'm not saying that you shouldn't save for a professional video shoot.  Often, small businesses are on a very tight budget – do shop around.
The great thing is that viewers aren't looking for something that looks like a multi-million pound blockbuster.  Your potential customers are looking for basic information about your products or services such as:
before and after examples,
testimonials,
your product in action,
how-to's
the people behind your business
All simple stuff.  By using video as well as images, you can connect with your potential customer on a much deeper level.
You can do that with a smartphone…
Even basic video cameras cost less than £200 these days – I have my eye on this Kodak Pocket Video Camera when I get over myself and talk on camera!  Oh, and if you go down buying a camera route, do get one that accepts an external mic.
You don't need a video camera to create videos for your business.  I get traffic from YouTube daily from my screencast videos.  Ok, I'm not specifically a local business. Any consultant, coach or similar service can use the same technique.
I use Camtasia (admittedly not to its full potential!) and you can try it free for 30 days.  If the budget isn't stretching to Camtasia, there is free screencast software available.  Try Camstudio or Ezvid.
You can take things even simpler and produce video slideshows of your images set to music.  You don't even need to speak!  Windows has Movie Maker bundled in or if you want drag and drop, click a few buttons simple, try Animoto.
And, if you want some eye candy, well you can always do something like this…
Try Sparkol free for 7 days.
I think the key take away is don't let a limited budget stop you from tapping into the video market.
 2.  My Business Isn't Suited To Video
This excuse makes me chuckle.  I honestly can't think of a business that could not use video as part of their marketing mix (if you can, please shout out in the comments!)
Video isn't just about ads and how-to's.  It can be used in so many ways and really humanises your business.
Entertainment
I think we've all heard of the "Will it blend" videos from Blendtec.  It's a blender – can't get much more unexciting. 
Yet, for six years they've been producing "Will it blend" videos, destroying everything from glow sticks to iPhones and Justin Beiber to show how good their blenders are.  A bit of fun that caught the imagination of many and no doubt put their blender in front of people who wouldn't have previously considered it.
Take a look at some of their early videos, they're not as swishly produced as this Blending of Beiber…
Staying in the fun mode, down the road from me Warrington Market jumped in on the Harlem Shake craze and produced their own.  It even got them air-time on local TV too, that's free publicity.  In the midst of a horse meat crisis, it tickled me to spot the panto horse dancing by the butchers…
Improve communication
On a more serious note, video can really help with your customer service and inspire trust in your business.  I watched a webinar by SEOMoz a few weeks back about using video in local marketing.  The example they gave was so simple, yet effective.
It was a construction based company, they installed windows, fascias and the like.  With an iPhone and an app to draw arrows (no fancy production) the contractor kept the client informed of where work was up to.  Just simple shots of their house and him chatting – today we did this and this, tomorrow we're finishing off that…
The videos were uploaded to YouTube, and the company has built a nice video portfolio of work that can be found in local searches as well as highlighting their communication.  How simple is that?  Watch the webinar here.
Support your clients
A couple of months ago, I was looking up some info on grief and I came across a video series on a funeral directors website.  It took a little while for me to dig the site back out.  Chandler Funeral Services Ltd are in Liverpool, Nova Scotia – that explains how I found the site in the first place, obviously looking for something in Liverpool down the road…
On their website they have a grief video series, which provides a support service to their clients.  What I also discovered when I found the site again last night were the videos on the obituary pages.  They were really simple, tasteful slideshows of photos, "Remembering the life of…"  I thought it was a lovely touch.
Whatever line of business you're in you can use simple videos to entertain, educate, inform and support.  These are not ads.  You're not directly selling anything.
You are expanding your reach, providing information in a format people want to see and driving targeted traffic to your website.
Video Marketing Helps Sell Too
The Experian stats referred to right at the beginning of this blog post also found that online retailers benefited most from our love of video.  16% of video viewers left to go directly to a transactional page.
Even a local business can expand reach by selling online, either through your own website or building a store on large sites such as Amazon, eBay, Folksy or Etsy and more.
Citation Building
As part of my Google Local package, I create a short slideshow video for my clients and upload it to a YouTube channel (also created for them). 
Both the video description and the channel have the business name, address and telephone details – providing another simple citation source – not to mention the videos also rank well in video search and with a bit of a prod rank well in local searches too.
Find out more about my Google Local packages
Local business video marketing needn't be difficult or overwhelming. Simple videos really work well to drive traffic to your website and are fairly straight-forward to rank locally too.  I'll cover that in another post.
Over to you…
Do you use video to expand your online reach and drive traffic to your website?  I'd love to hear about your experiences in the comments.
Local Business Video Marketing Myth Busting
by
Jan Kearney