WordPress 3.6 was released on Thursday 1st August and chomping at the bit, I put aside some time to upgrade my sites on Friday morning. Hostgator problems put a spanner in the works…
On 2nd August, several Endurance International Group (EIG) owned hosting companies died a death with a total unexpected outage. That included popular hosting companies Hostgator, Bluehost, JustHost and Host Monster.
As if the website and email being off more than it was on throughout Friday wasn't enough, EIG servers were then hit with an ongoing attack on Saturday 3rd resulting in yet more downtime and mega slowness.
Why I'm Saying See You Later Alligator!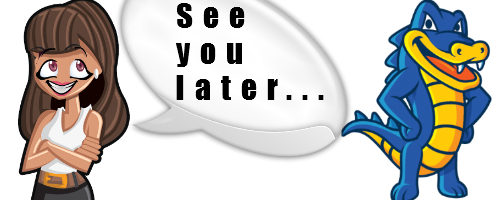 The latest problem at Hostgator – a HUGE downtime over two days – was the straw that broke the camels back.
When I first heard the rumours back in June that EIG were buying Hostgator I groaned and put it in the wait and see what happens pile. EIG, one of the largest hosting providers in the world with many hosting companies under their belt, are not particularly known for great service.
I've had sites hosted with Hostgator for around 4 years and originally had no issues – infact I regularly sing their praises from the rooftops. When I started My Local Business Online I did shop around to find a UK/European host for clients who prefer me to organise hosting for their websites. There was no overwhelming reason to me to move my site anywhere else.
For me, the best test of a web host is when the crap hits the fan. How quick and helpful are they getting you back up and running? I don't want 9-5 support, I want support when I need it. Hostgator ticked the boxes.
Email Hacked
Then in June, my email was hacked and sent links out to every contact. To say I was mortified would be an understatement.
I got in touch with Hostgator support to be told it was my fault, I had introduced the issue via a virus on my computer. The solution was "change your password" (I had, it was the first thing I did) and scan the computer. I asked what the virus was and how I could prevent this happening again and got more stock answers.
At the time, I was ill and it physically hurt to sit infront of a screen. I spent days scanning and rescanning my laptop with various antivirus and malware software – all the while still locked out of my email. As someone who works on clients sites, I know it is possible to introduce issues from your computer, even if it is unintentional. So, I am careful – I regularly scan, I don't download from iffy sources, I scan everything I do download even from trusted sources, I don't store passwords in my browser.
But I am not naïve enough to think that it couldn't be possible that it was down to something on my laptop.
Needless to say I didn't find anything other than cookies. Hostgator never gave me a straight answer how it happened or indeed why I was locked out for so long.
Server Upgraded?
A few weeks later I received an email from Hostgator to let me know I was being upgraded to a new server. "Fantastic!" I thought…
Soon after I received an email saying the upgrade was complete and I needn't do anything else.
But my mail wasn't working again…
On and off to support again for what seemed like an age and it turned out that yes, I did need to do something. I needed to change IP addresses on Cloudflare. Not a huge issue and easily done – but why wasn't I warned of this first? Why jump through hoops to get a straight answer?
Dead Slow and Stop
Throughout July my site slowed down. It did the hokey kokey – down, up, down, up and shake it all about.  A few minutes down here, an hour there…
MLBO has been online for 2.5 years and I use it to test things out. I will admit it needs a clean up.  You would think an "upgrade" would be faster not slower and I certainly didn't expect so many outages no matter how small.
That is when I discovered EIG had bought Hostgator and we had moved to their datacentre in Utah. It was not an upgrade.
Friday's downtime was simply unacceptable. Surely they have put systems and practices into place to protect their customers while performing maintenance and prevent such a catastrophic failure? EIG are one of the largest hosting companies in the world, not some little independent company.  
The attacks on Saturday – not their fault, an expected hazard online these days. DDoS attacks aren't uncommon – if you follow online news you may have heard of the large "botnet" attacks targeting WordPress sites that have been going on throughout the year.  I have no idea if this was related, the point being these types of attack are on the increase. 
Large hosts should be able to see an attack and take steps quickly.  What seemed to happen was the attack just moved from server to server all day with no control resulting in massive downtime and interruption.
See you later Alligator…
Because of the ongoing problems and unhelpful support I no longer feel confident recommending Hostgator, which saddens me.  They have been wonderful up until June this year.  It's not just the massive downtime at the end of last week.  This is the web, you expect problems, not everything can be rosey all the time.  Perhaps I've been spoiled by the great service and top notch support up until recently but there's only so many times you can say, "Let's wait and see."
I've removed Hostgator from my nifty online toolbox.  When everything has settled down I'll be moving my sites and test sites from Hostgator to my reseller account at Webhosting Buzz. That will be a job and a half and I'll blog about how it goes too.
I've used Webhosting Buzz for 2 years now and find their service great – fingers crossed they don't sell out to EIG!
Over to you…
Have you been affected by the recent outages?  Will you be moving hosts?
Hostgator Problems and Downtime – See You Later Alligator!
by
Jan Kearney