There's so much happening right now and not enough time in the day, I thought I would take a leaf out of Bonnie's book and do a quick round up of articles that caught my eye that may help you too.
This week, the focus is on content marketing and content production because it is a huge part of online marketing and one that many local businesses don't practice enough!  Yes, you can do this stuff on a budget too.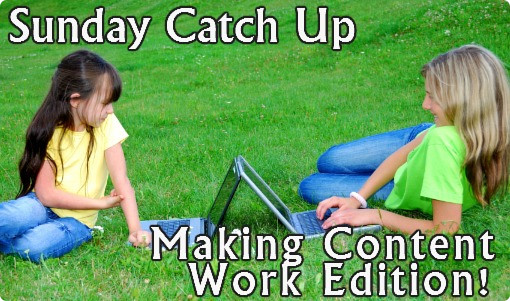 Pinterest Get Sensible and Add Analytics
Now if you have a verified website and the new look Pinterest, you can access analytics to discover who is pinning what from your website. 
Is your website not verified yet?  Here's how to verify your site on Pinterest.
Lazy Content Creation For Coaches Who Don't Like To Blog
I loved this very simple post from Mama Red.  It's exactly what I tell my clients and exactly what I should be doing more of too.  It's not just for coaches, anyone can use this method.
Three no-fail techniques for writing in your own unique, SASSY voice
A guest post from Tanja over on Linda's Sassy Girl blog.  Writing in your own voice works, simples.
Mad Marketing Podcast from The Sales Lion
My Sunday morning with coffee and toasted tea cakes listening to Marcus.  He's always so enthusiastic (and dare I say it, right – this stuff works people!)  I love this episode because Marcus specifically mentions local content at around the 31 minute mark.
Secrets from a successful Facebook page!
From lovely Aussie, Bev Hayden interviewing Kerry from De-stress and Be Happy Facebook Page.  This Lady has made Facebook work for her local business, and she has a wonderful Facebook Page too.
How to Design a Top 10 InfoGraphic
I work with micro-businesses on a budget and often they want to create their own content but not start writing constantly.  This is a great tutorial from Bonnie to create your own basic infographic using PowerPoint
Video Updates Help Local Businesses SEOMoz Webinar
Ok, I'm cheating a bit with this, the actual webinar went out on March 5th and I got sidetracked mid watch.  I caught up with it earlier this week and this is a technique YOUR local business can use too.  Brilliant.
Over to you…
Do you have tips for creating content and getting it out there?  Share them below!
Sunday Catch Up - The Making Content Work Edition
by
Jan Kearney