We Brits spent 323 million hours watching online video in February.  Hitwise also revealed this week that we spent 37 BILLION hours online in 2012 (not including mobile views).
I have an unhealthy fascination with stats, I blame my science background…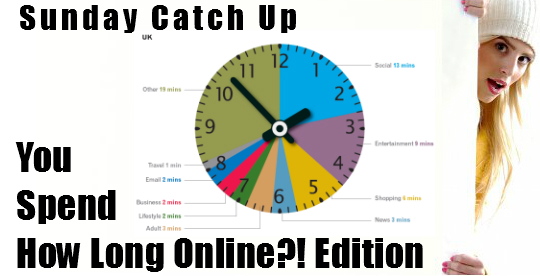 What are we doing with our time online and how can we as marketers take advantage of our social love affair?  Here's this week's round-up
How Much Time Do We Spend Online?
If our 37 billion hours online is compressed into 1 hour, it breaks down like this: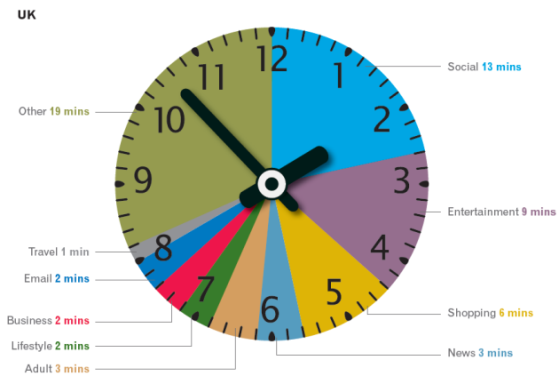 Image credit: Experian Hitwise
Perhaps unsurprisingly, Brits spend 13 minutes in every hour using social media (click to tweet this stat)
The Hitwise blog also compared internet usage for other English speaking countries – read it here 
Not only do we spend far too much time online, we're plugged into the web while watching TV.  These stats are from Neilsen via SearchEngine Land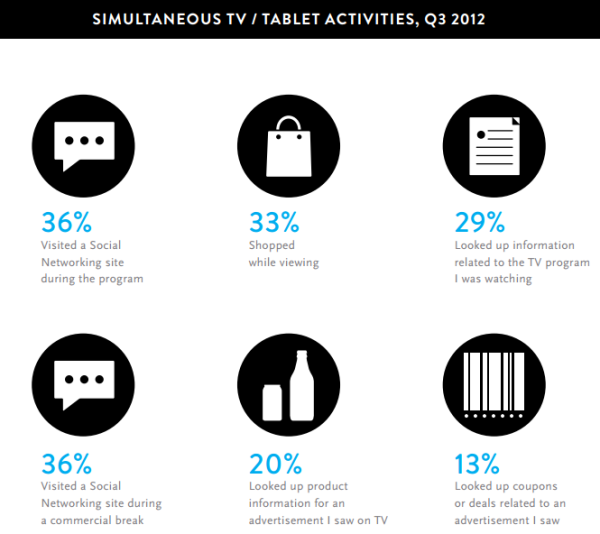 The Good and Ugly Side of Social Media
The horrific events in Boston last week really highlighted the power of social media.  Our time online was put to good use as Internet Psychologist, Graham Jones highlights with his blog post.
And, in the aftermath, our social time turned to witch-hunts and hatred.  Molly Wood highlights the bad and gives some ground rules for reporting breaking news on CNet.
Facebook to Bombard Us With More Ads
The powerhouse that is Facebook hope to take advantage of our social media fascination and sell super-ads on the platform.  These ads will be 15 second videos that will likely pop out from the newsfeed and auto-play.  I can't think of anything more intrusive…
Personally, I'm hoping that's a US only roll out.  Ads in the newsfeed are annoying enough because often they are totally unrelated to me.  Just because I am friends with some very creative people who can make things, it does not mean I want to see a crochet promoted post.  Don't start me on the sponsored news stories about the latest celebrity gossip!
Pop out, auto-play ads simply combine my two biggest gripes about online marketing and will result in me restricting time on Facebook, if not moving away totally.  What do you think?
The cost of these ads are estimated to be 7 figures, and you have until summer to save up!
Optimising Facebook Content for Mobile
For small businesses, Facebook ads can actually work very, very well and are far less expensive than Adwords.  Like any other ad, it's all down to targeting the right people with the right message.
Despite spending 13 minute per hour on social media, these stats do not include mobile usage.  Facebook and mobile go hand in hand (unless you're me, I don't do anything on a mobile except talk!)  Mobile users don't see the same things we see on a desktop or laptop.
HubSpot have a great post about optimising your Facebook content, including ads for mobile. 
New LinkedIn Mobile App
As a business browser, LinkedIn may be more up your street.  They have released their new, better looking mobile app for "the everyday professional".
A safety note: Don't update your LinkedIn status while crossing the road, that's just silly!
As a side note, I'm not a big LinkedIn user, I feel like it's similar to walking into a networking meeting full of people in suits!  However, on the occasions I visit, I prefer the LinkedIn ads and I am more likely to click.  What are your thoughts on LinkedIn?
How To Pin A Video
Pinterest is still very much the new kid on the block as far as social networks are concerned.  It's not just for images, you can pin videos too.
Pinning a video isn't quite a straight forward as it would first appear.  Bonnie Gean has produced another helpful video tutorial with a PDF download – "How to Add a Video to Pinterest"
I've already mentioned our love affair with video, and we know that people are more likely to buy when clicking through from an image on Pinterest compared to Facebook.  I would be really interested to know if you have experienced results from Pinterest, what about clicks through from videos on Pinterest? 
Get Started With Google+
I can't really chat on about social media and not mention Google+ now…  Chris Brogan has some great tips on his article get Started With Google+.  When Chris talks about Local Business, I would recommend creating a Google Places page not a Google Plus Business Page yet – things still aren't totally ironed out there
 Over to you…
How much time do you spend online?  Is it mainly on social media?  I'd love to hear from you in the comments!
Sunday Catch Up - You Spend How Long Online?! Edition
by
Jan Kearney